| | | |
| --- | --- | --- |
| | | |
In honor of the Crew of the USS Idaho - 'The Big Spud'



In Loving Memory to
Mack L. Roye, Lew Davidson, & Don Seger
10-11-2017 - USS Idaho Crew List

Hello,
Am writing to ask you to please add my Dad to the USS Idaho's ship list on your site.
Wallace Monroe Martin (1921 - present) was on the Idaho from mid 1941, for at least most of a year. They were in Iceland when Pearl Harbor was struck. He has always told the story of having to dump the decking overboard, because a lot of the death/injury to the men at Pearl Harbor came from the decking turning into shrapnel. Dad still talks about the clear old oak, 2 inches thick laying at the bottom of the fiord.

Dad was the "Captain's Talker" back then (not sure what the official title was). I also know that the Idaho was part of the convoy for Canadian merchant ships. Dad always told about one Canadian ship having some sort of engine issue making them slower than convoy speed. Eventually, the convoy saw the ship left behind get blown up by an U boat.
An aside -Based on a couple comments Dad made years ago, I think there is a pretty good chance that the Idaho was used in the US stationing of marines in Iceland pre-WWII.

The USS Idaho made it to Pearl Harbor one month after. Dad says the harbor was still covered in a foot of oil. And he always complained that when they got shore leave, the "stupid" officer had ordered dress whites to be worn. By the time they got to shore, they were all covered in oil spots. Dad griped for decades about having to buy new dress whites, for $3!, due to that stupid officer.

Anyway, will look through his photos and send them along to you soon.
Thank you for your site!
Becky Peck

09-21-2017 - Remembering Floyd "Toby" Reynolds

Hello, my name is Kellie Reynolds. My Grandfather was Floyd "Toby" N. Reynolds. He served on the USS Idaho from 1944-1946. I do not know his rank or what he did on the ship. I believe he may have been part of the gunnery crew? He is not listed on the crew roster and I would like to have him added please. You do have a photo on your website of him already. He is in the thread dated 11.10.11 with James Moulds. In the picture with the 4 men. My Grandpa is the one furthest to the left with his hand in his jacket. Sadly, my Grandpa has passed on. He passed away March 5, 2015.

Thank you for your dedication to our service members in memorializing them.

I have attached some photos I have of him as well.

Please let me know any information you may have or can find regarding his rank and what he did while on Big Spud.


Sincerely,

Kellie Reynolds




08-08-2017 - Another shipmate added to the crew list.

My father Lester Smith served as a Machinist Mate during WW2. I know he was on Board in 1944 and 1945. But I don't know if he was aboard prior.

Here is a sketch of him from the time.

Gerald Smith














06/09/2017 - New mail from Craig Ricketts:

Dave,

I found some of these when going through my Dad's stuff after his passing. He was on the USS Idaho at the end of the war and was asked to design an official envelope for this special day. I'm attaching his photo, the teletype authorizing the envelopes, and the memo to my Dad requesting he design one. I have several of these that are post marked on the USS Idaho on VJ day (but not addressed, that I'd be honored to share with any surviving Veterans that may like to have one. Let me know.

Best regards,
Craig Ricketts - Send Email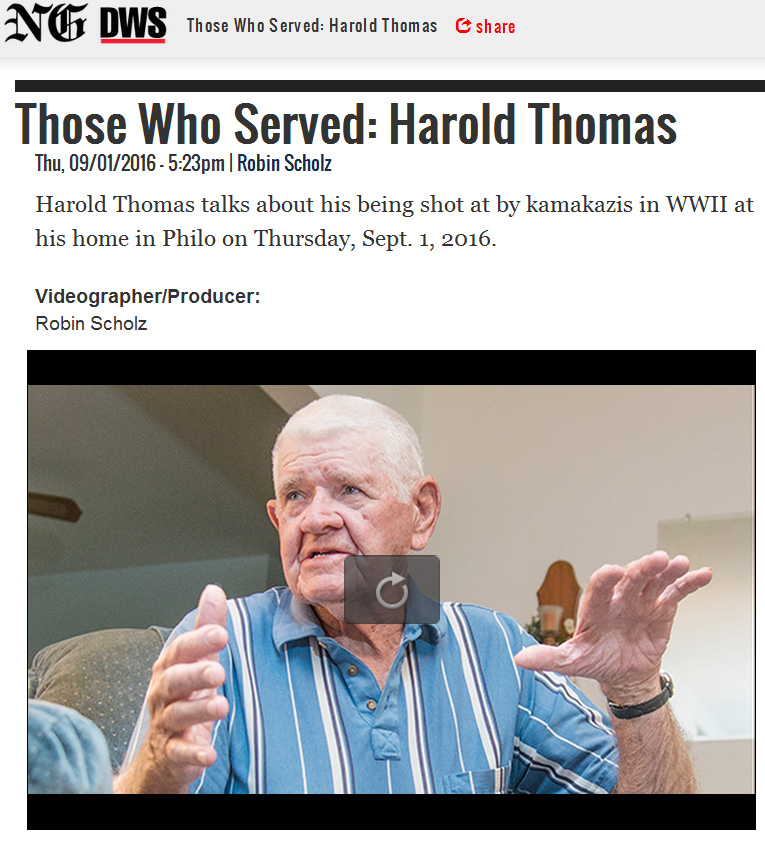 Those Who Served: 'We were green as grass'
Mon, 10/17/2016 - Paul Wood
PHILO — Harold Thomas saw a kamikaze plane up close as it rammed into the USS Idaho, and survived with only some hearing loss.
He served in the Marines in the South Pacific, including Okinawa and Iwo Jima.
A farm boy who was too busy with chores to play sports at Tuscola High School, Thomas, now 90, made it into the Marines almost by chance.
He had been drafted into the Army right out of high school and was on his way to serve with a couple of friends when they ran into a Marine recruiter.
The recruiter said that if they joined the Marines, the friends could stay together.
"We were green as grass," Thomas says now. "He had a quota to fill, and we never did see each other again."

07.27.16 - In the mail - Joe H. Adame


05.30.16 - In the mail - "Sons of a Sailor" from Joe Bornhorst


Dave,

I happen to stumble onto your website ... Really interesting!


I am a bit familiar with the USS Idaho as my father served on the ship ... Ralph Bornhorst.

I noticed his photo on one of the group photos ... and I saw on the crewlist his rank is unknown. I will seek out that data and send it to you.

He is 94 and still lives on the farm in a small town of McCartyville, Ohio.
I have forwarded the website to him and I look forward to talking with him soon and helping him, per your request, to submit a few stories, photos, etc.
I do have one photo, (see attached)… I had this painting made 15 + years ago…with myself (in the yellow shirt) and my two sons. Jason (Blue shirt, and Zachary, Red shirt) ...the title of the painting.. Sons of Son of a Sailor… was selected after the famous song written sang by Jimmy Buffet.

The flags across the top of the painting is Navy code for BORNHORST.

I used a photo he had received from the USS Idaho navy days.

(Click on photo to Enlarge)
I also included a video of his 94 the birthday celebration:

~ USS Idaho Sailor Ralph Bornhorst's 94th birthday ~

Feel free to add the photo and/ or video to the website if you feel it has merit..

On this Memorial Day!

I would like to thank you for having the vision to create this website… and the numnerous hours spent assembling the stories and information. well done !

Joe Bornhorst
Son of a proud sailor!


11.11.15 - In the mail "USS Idaho Bell"
My name is SFC William J Brewer US ARMY & IDARNG (RET)

Approximately five years ago while working on a HMMV for the Marine reserve I walked in the Naval reserve center at Gowen Field and noticed the bell in the entry way of the USS Idaho and was blown away to see it in person. I had read the book the thousand mile war a Bantam war book that discussed some of the actions of the USS Idaho fighting the Japanese on American soil in Alaska and being a fifth generation Idahoan and being a combat veteran I studied up a bit on the USS Idaho with supreme pride. It was to my great shock the marines there had not a clue what they had next to their office as I had walked in their front door to see such a great Idaho war veteran of world war two with great excitement. They were baffled by my passion for it and I asked them all to read up on what they had. To see it and to know some of its history made my chest grow out with supreme pride! Hopefully the marines there have learned from this encounter otherwise it should be moved to the state house or the Idaho Military History Museum.

The U.S.S. Idaho and its Sailor's are some of the greatest veteran's of our state!

SFC William J Brewer (RET)


11.10.11 - James M Moulds USS IDaho (1943-1946)

08.03.15 - James Dale Sullivan recollects of times on the USS Idaho. (The News-Gazette)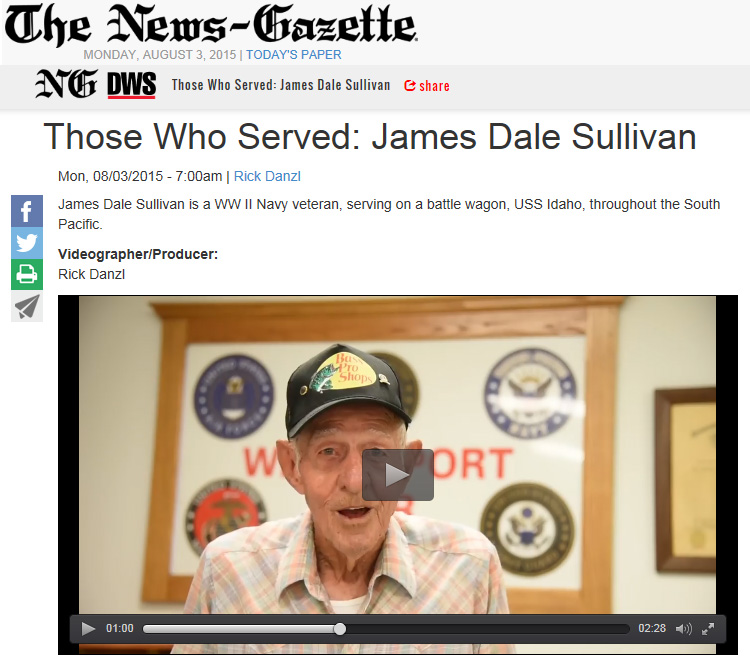 * * * * * * * * * * * * * * *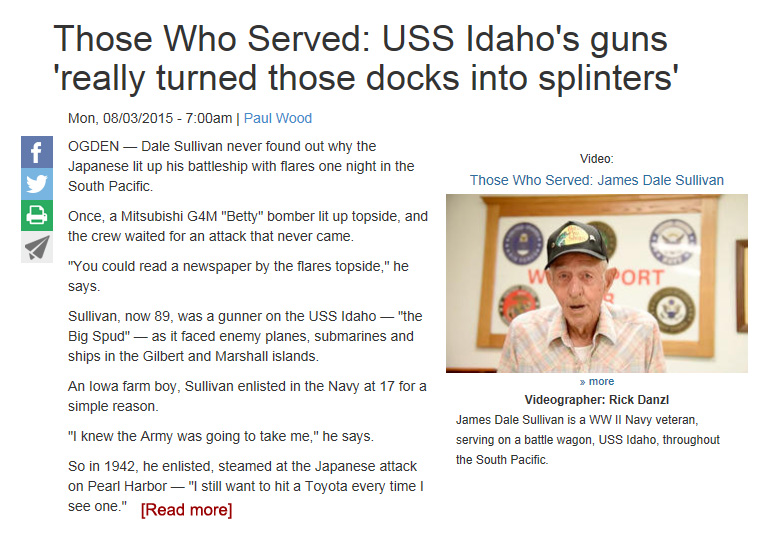 06.09.15
Russell J. Miller - Chief Gunners Mate on Tartu 2 - U.S.S Idaho


04.27.15 - Wishing A WWII Vet A Memorable 'Honor Flight'

Sonora, CA – Still spunky at 94, retired Mother Lode resident and World War II vet Harry Roberson will be shortly heading aloft on a whirlwind flight honoring his service to the nation.

The opportunity came via a family member, who had learned of the nonprofit Honor Flight group's mission to provide veterans, particularly those remaining survivors of WWII, to reflect and visit at their memorials and reminisce with their contemporaries. The veterans are transported with guardians via chartered flights that are accompanied by medical staff. Roberson's flight will be departing from Fresno Airport on April 27; accompanying him on the two-day tour will be grandson-in-law and amateur WWII historian Tony Cunha. [Read More]

Combat Zone: The 'Hell on Earth' That Was Iwo Jima

By Suzy Hopkins

On a wind-whipped morning in February 1945, 24-year-old Marine Sgt. Harry Roberson hunkered in a half-track churning across a black-sand beach at the base of Mt. Suribachi, his pulse racing.

He and fellow soldiers in the 3rd Marine Division had already fought the Japanese on Guam, 700 miles to the south. But for Roberson, that jungle fight would pale in comparison to what lay ahead on the tiny volcanic island of Iwo Jima – "Sulfur Island."

The Marines' mission: seize the island and its three airfields from the Japanese, who used it to launch kamikaze raids. In the critical final months of the war, the newly captured Iwo Jima would prove to be a strategic U.S. base for attacks on mainland Japan and serve as a lifesaving landing site for crippled U.S. bombers. [Read More]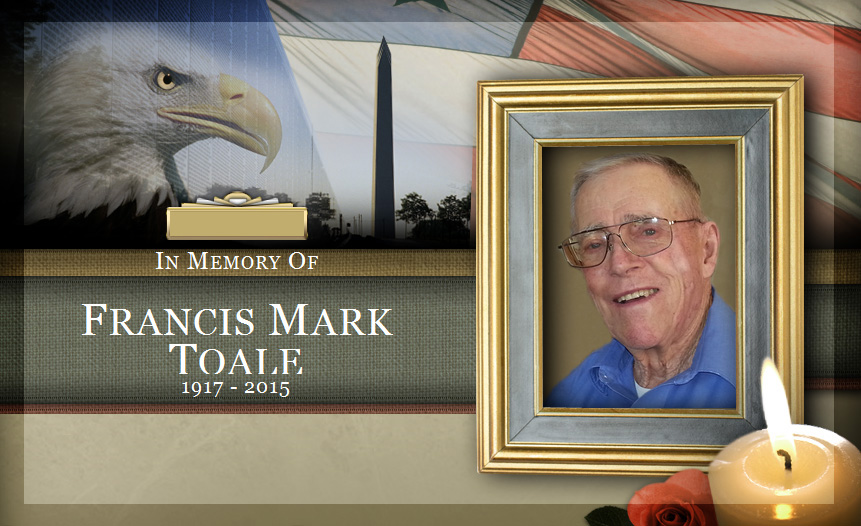 Francis M. Toale, 97, of Independence Iowa died February 8, 2015 at the ABCM Rehabilitation Center's East Campus in Independence, Iowa.

Funeral services will be held at 11 AM, Thursday at St. John's Catholic Church, Independence, Iowa with Msgr. Thomas Toale presiding. Burial will be in the St. John's Cemetery, Independence, IA. Friends may call from 3 to 8 PM Wednesday at the Reiff Funeral Home & Crematory, Independence, IA, and from 9 AM till services Thursday at St. John's Church. A parish wake service will be held at 3 PM followed with a rosary at 4PM and a military memorial service will be held at 7PM Wednesday at the funeral home.

Francis was born on December 20, 1917 in Independence, Iowa the son of Mark and Teresa (Gibbons) Toale. He attended country school, and later served in the US Navy on the battleship USS Idaho from 1942-1945. He was proud of his service to his country. He was very active in the local community having been past VFW commander and American Legion. He proudly traveled in the Honor Flight to Washington DC in May 2010.

Francis was a lifelong farmer on his family farm and had been an Iowa Master Farmer, and a Master Pork Producer. Other community involvement included being a 4-H leader, township trustee, and ASCS board member. He was a member of St. John's Catholic Church in Independence, served on numerous councils and boards, and was a member of the Catholic Order of Foresters.

He married Clara Ramona DePaepe on April 28, 1947 in Independence, Iowa.

He is survived by his wife Clara, six children Rosemary (Ron) Engelhardt of Elkader, IA, Richard (Ann) Toale of Independence, IA, Roger Toale of California, Msgr. Thomas of Dubuque, IA, Don (Marty) Toale of Independence, IA, Sue (Tom) Knapp of Des Moines. IA, 18 grandchildren and 35 great grandchildren.

He was preceded in death by his parents and a sister Eileen DePaepe.

Memorials may be directed to the Francis M. Toale Memorial Fund, % BankIowa, 231 1st Street E., Independence, IA 50644




01.05.15
Hi Dave,
Our father, William M. Klein, served on the USS Idaho from February 1943 to November 1945. Along with our keeping a trove of his wartime personal letters to his family and memories of his rare stories of his service during our childhood, we were of late excited to read his name on the ship's logs, as captured in William Schumann's "The Big Spud," on pages 164, 174, 196 and 214. Dad was assigned as an ensign, promoted shortly thereafter to lieutenant and sometime near his discharge, lt. commander. He returned to his home town of Kansas City, MO and married Audree Milgram in 1951, with whom he raised four sons. He continued a life of civil service in committing his time to countless community organizations and led Milgram Food Stores, a midwest grocery chain, as its CEO and then Chairman of the Board, until his death in 1979.

After years of periodically searching the web and family scrapbooks for mementos of our father's service, it's been a thrill to find and pour through the USS Idaho Pride website and as a result, view a photo of Dad on duty. As well as we can determine and with a good amount of certainty, he is second row from front, second man from left in a large group photo shown in the May 19, 2007 Bulletin Board posting, sent by Mike Swift, link: http://www.nrvhost.com/uss_idaho/05-19-07.html. We would deeply appreciate the opportunity to have Dad listed among his fellow crewmen on the USS Idaho Pride Crew Members page.
Thanks to you and all those responsible for "USS Idaho Pride" for the thought and effort that has made it possible to connect us more closely to one the most remarkable and least seen endeavors of our father's life, and to have a fuller perspective of what makes us so proud and humble as descendants of these Americans.

Best regards,
Nat Klein, La Jolla, CA
Jim Klein, Overland Park, KS
Rob Klein, Needham, MA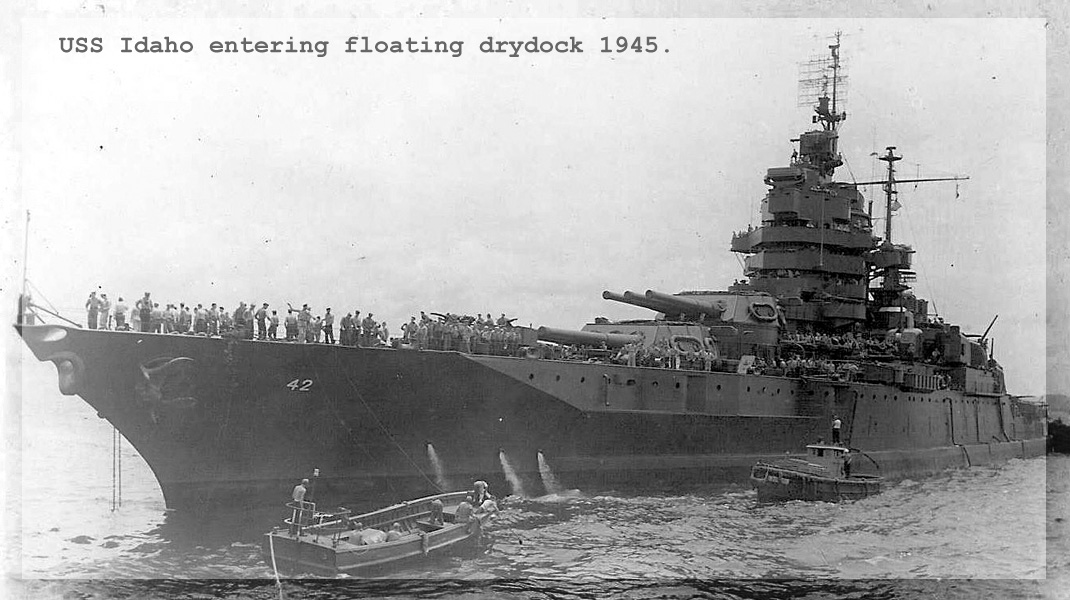 Coming Soon!
* John (Jack) Van Horn's personal diary
~ Many thanks to Jack's son, (Jim Johandes) for sharing ~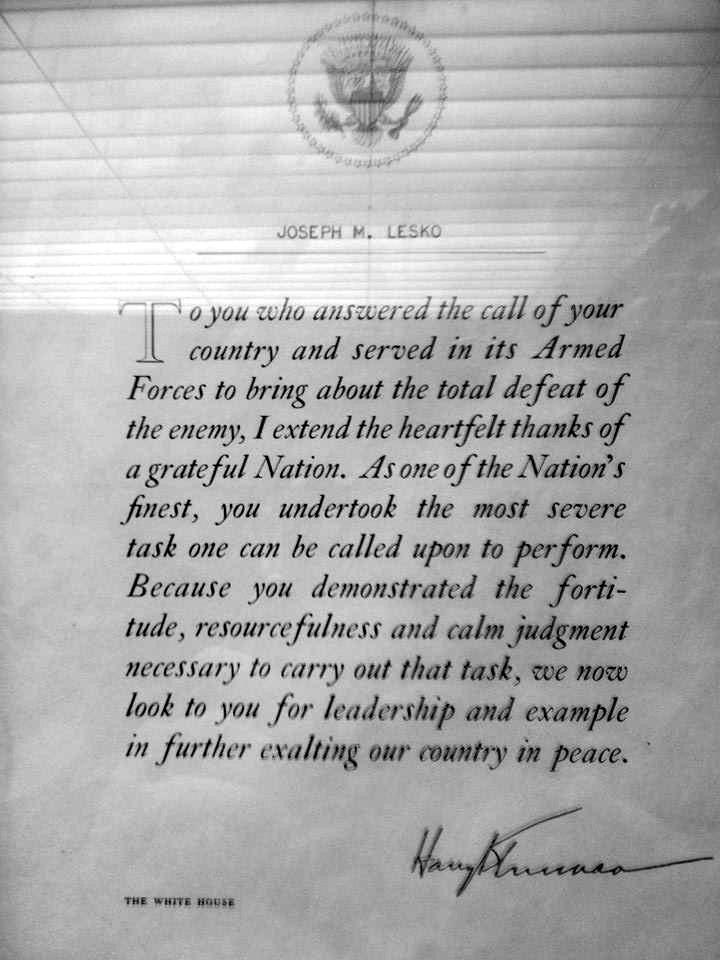 Joseph M. Jesse Lesko

To you who answered the call of your country and served in its Armed Forces to bring about the total defeat of the enemy, I extend the heartfelt thanks of a grateful Nation. As one of the Nation's finest, you undertook the most severe task one can be called upon to perform. Because you demonstrated the fortitude, resourcefullness and calm judgement necessary to carry out that task, we now look to you for leadership and example in further exalting our country in peace.

~ Harry Truman ~

08/25/14

Dear Sir,

While doing some research for my son, a DC2 on the USS Wayne E Meyer, regarding his great-grandfather, I ran across your USS Idaho website.

My son was asking for me to figure out what ship his great-grandfather was on when a picture of him was taken on deck while in port in Hong Kong.

I have Grandpa Jaroszewski's Continuous Service Certificate and the Idaho was his first ship. He was assigned to the Idaho on June 30, 1919 with Rate at enlistement of "A.S." on July 1, 1919 the next day his Rate of Enlistment was "Sea 2c". He would be leave the Idaho a "Sea 1c" on July 15, 1921 and join the USS Wyoming on Sept 30, 1921.

On his Continuous Certificate Record, it lists him as "JOHN FRANK JAROSEFSKI" However, the family spelling of the last name is Jaroszewski. He entered the service on Feb 10, 1919 and was honorably discharged on Jan 18, 1936 at the rate of SF1c. Grandpa J was recalled to active duty on April 6, 1942 and finally retired on Sept 10, 1945 as a Chief Ship Fitter.

I know my husband's family would love for him to be included on the USS Idaho's crew registry.

I've included a picture of Grandpa J in Hong Kong and a copy of the page showing his service on the USS Idaho.

Thank you for your consideration.

Gratefully,

Kathe Gunther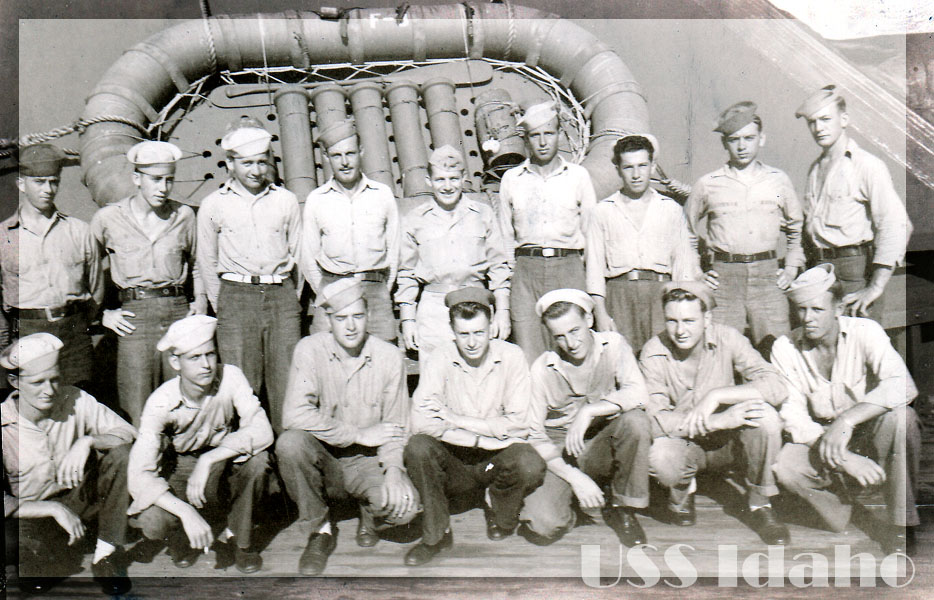 Jack Van Horn, Top row fourth from left.

08/22/14

Hello Dave,

My name is Jim Johandes. My father John (Jack) Van Horn served aboard the Idaho during WWII. If you would like an interesting story of the USS Idaho ... click on the photo below!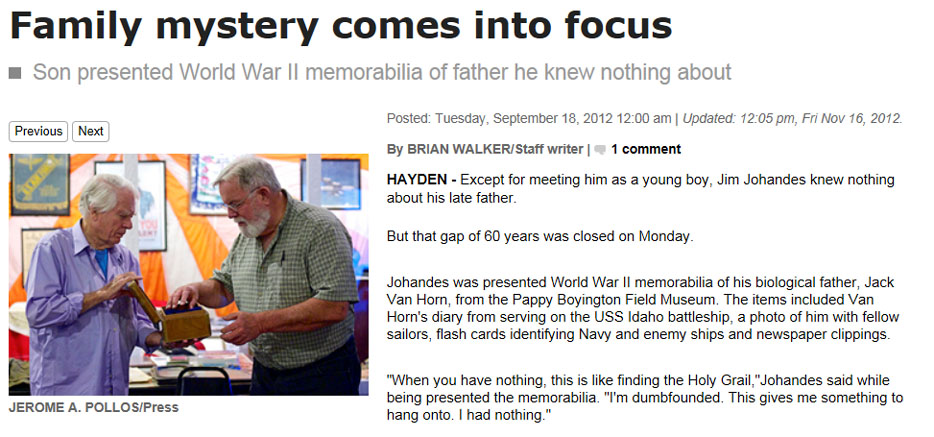 ~ February 11, 2014 ~
* Mail Call from the Crew
* Photo Albums of Ryle Johnson
Many thanks to 95-yr old USS Idaho crew member, Ryle Johnson, for sharing his photo albums. I called him a couple of months ago and he and his brother had just taken a cruise together to celebrate his brother's 100th birthday. It's always great to hear from one of the crew of the "Big Spud". I still receive about 10 or more emails a month from family and friends of the USS Idaho crew, but when I get to chat with the ones who served our country in WWII, it really makes my day.
I just received this special email in regard to John Huey who not only served on the USS Idaho, but helped build it when he worked in the naval ship yard before joining the US Navy. Tom Williams writes:
Hello Dave,

A man at our VFW was on the Idaho but doesn't show up on the crew list. He was a
GM2c on a fifty caliber. He served onboard in 44, 45, and 46. He carries a purple heart from Okinawa. John is 87. Thank you in advance for your help getting him on the crew list.

John worked on the Idaho before joining the Navy, as a welder. He welded his initials on the bow below the water line. After boot camp, he was assigned to the same ship. His shipmates didn't believe him till BB42 went to dry dock after Okinawa and he showed them the "J.H" on the hull. He also has pic's of the air assault at Okinawa. Thanks for your efforts, he will be pleased to see his name on the shipmate roster .. he thinks no one cares about "The Old Guys" anymore. Thanks, Tom

Tom Williams
Post Commander VFW 7622
New Florence, PA 15944
I hope Tom will show John that his name is now on the USS Idaho Crew List and he will know that "The Old Guys" are not forgotten. - Dave

I also just received an email from a friend of shipmate, Tom Morales, GM2c from 40-45. Tom is in hospice care at his home at this time. If anyone would like to contact Tom, they can SEND AN EMAIL to Annette Morales(Tom's daughter). Our thoughts and prayers go out for Tom and his family and wish him all the best.



~ Latest Photo Gallery ~

~ Previous Postings ~
* USS Idaho Crewmember Passing - Ralph Francis Majerus
* USS Idaho Crewmember Passing - Eugene J. O'Neill, RDM-2c
* Dave gets a special Christmas present
* Mail Call from families of the USS Idaho Crew
* "As Long As I Live, I Cannot Forget" by Joseph L. Levick
* Obituary of Joseph Edward Ross, Captain USNR / Sent-In Photos
* The passing of another WWII hero - Clayton Wilson.
* "Memories of Pearl Harbor" by Melvin Sepulvado
* Remembering Lew & Sal Davidson
* Read the Old Guestbook Entries - 2004 to 2005
* Remembering Our Fathers on Fathers Day
* Mail Call for Father's Day
* A special "Father's Day Message from the Family of Don Seger
* USS Idaho Shipmate passes - LT JG Philip A. Jensen
* Happy 87th Birthday to "Pops" Seger
* More Sent-in Photos
* A gift to a special lady from a special lady
* Jan - June USS Idaho Association Newsletter from Margaret Graham
* Remembering Melvin Sepulvado
* Roy Alexander Passed Away (See Email below from John Alexander)
* USS Idaho Association Newsletter (2007) from Mrs. Dave Graham
* Oct 2007 USS Idaho Assocation Newsletter from Mrs. Margaret Graham

* Happy Birthday Don Seger
* New Website Additions
* Mail Call, USS Idaho Sports, and photos
* Special Email message from Cheif Cecil "ED" Hewitt and other
* USS Idaho Association - A message from Margaret Graham
* The passing of Dave Graham

~ God Bless the Crew of the USS Idaho ~


www.ussidaho © 2004 - 2017
For any information regarding the contents of this website CLICK HERE
Website design by Crawdaddydave ™ - All rights reserved.